Post-Pandemic Era
Post-pandemic era Is Trump Defunding Social Security and Medicare? Concerns Mount After President's Executive Order – Newsweek
President Donald Trump's Saturday decision to sign an executive order to defer payroll taxes has fueled concerns that he is attempting to defund Social Security and Medicare, with the latest order drawing criticism from conservatives and liberals alike."First one is on providing a payroll tax holiday to Americans earning less than $100,000 per year," the…
Post-pandemic era
President Donald Trump's Saturday decision to sign an executive order to defer payroll taxes has fueled concerns that he is attempting to defund Social Security and Medicare, with the latest order drawing criticism from conservatives and liberals alike.
"First one is on providing a payroll tax holiday to Americans earning less than $100,000 per year," the president said during a Saturday press briefing. "In a few moments, I will sign a directive, instructing the Treasury Department to allow employers to defer payment of the employee portion of certain payroll taxes…"
Trump said that he would make the temporary tax deferral permanent if he was re-elected in November. "So I'm going to make them all permanent," he said.
Notably, this is not a tax cut. Under the wording of the executive order, the payments would simply be deferred until next year unless further actions were taken.
Newsweek subscription offers >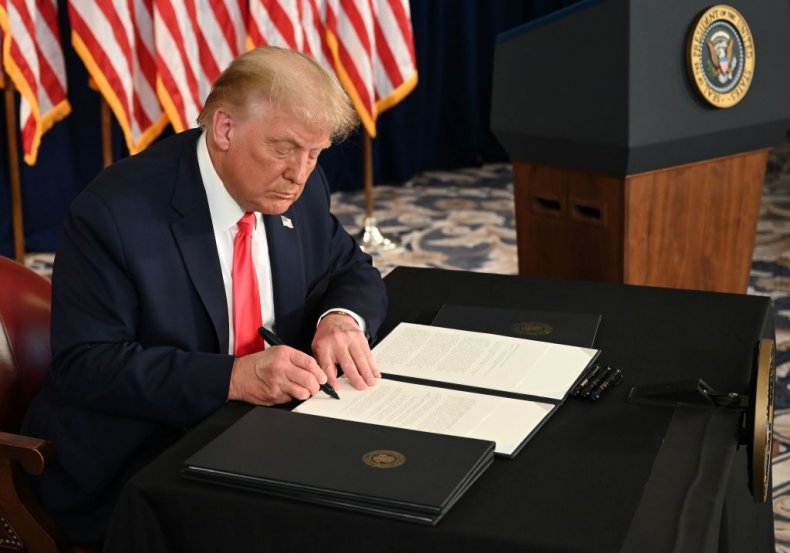 Whether Trump's executive orders, which also provided an extension of extra federal unemployment benefits at a reduced rate of $400 per month, will withstand legal scrutiny is a matter of debate. His decision came as Republicans and Democrats in Congress remained at an impasse over a new round of coronavirus economic stimulus legislation. Under the Constitution, Congress, not the Executive Branch, is granted power over spending federal funds.